Bulk Bentonite Clay Cat Litter Safe Sodium Clay Cat Litter
Our
bentonite clay cat litter
uses natural safe sodium bentonite as raw materials, which features low dust, light grey color and has lots of fragrance options. It is an economical and widely applicable cat litter. It does not contain chemicals. Bentonite-based clumping cat litter is the preferred product because of its unique property to absorb moisture and liquid. Bentonite does all this without requiring chemical additives. And if you want the bulk price, please contact us.
Safe Bentonite Materials
Safe
Low Dust
Get Wholesale Price

100% Natural
We use 100% natural raw material.
OEM PACKING
Customized packaging with your brand.
SMALL MOQ
Small order is acceptable.
FREE SAMPLES
Free samples for bulk order.
Product video
Product description
Our bentonite cat litter uses 100% pure natural sodium bentonite as raw material. Cat litter does not contain any coloring, appearance is natural light grey color. Besides the original bentonite cat litter, a variety of scents are available by adding precise dosages of food flavors: such as apple, lemon, lavender, rose, coffee scent.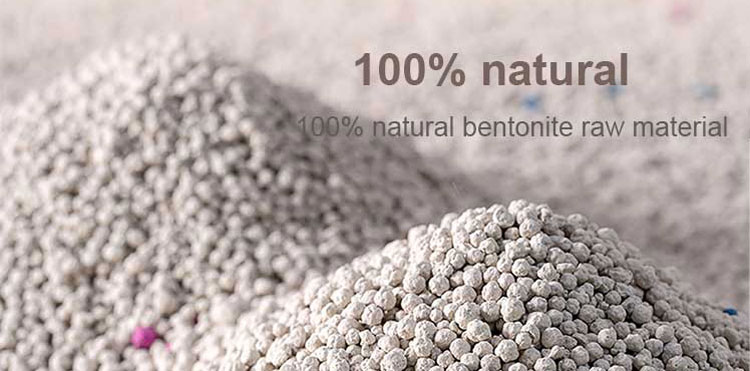 Because of our strict control of the raw materials and additives of cat litter, our cat litter has very low dust, and the original natural earthy scent(cat litter with scent has faint scent), does not stimulate the cat's respiratory system. However, due to the inedibility of bentonite, it is necessary to prevent cats from eating by mistake.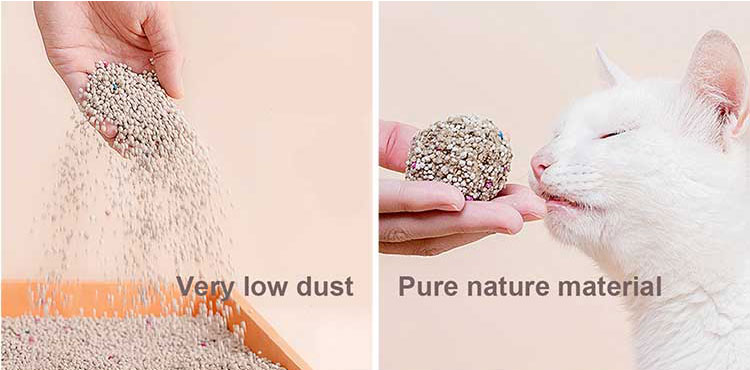 Cat owners often encounter this problem: a lot of scattered cat litter will often gather around the litter box or even scattered everywhere in the room. It is a pity to throw this cat litter away, but a lot of dust will be mixed in if you put this cat litter into the litter box again. This problem is really annoying sometimes. Our cat litter is scientifically designed, and its moderate size makes the cat litter not easy to get stuck in the middle of the cat's feet. Thereby reducing the cat litter brought out of the cat litter box and fundamentally reducing such problems.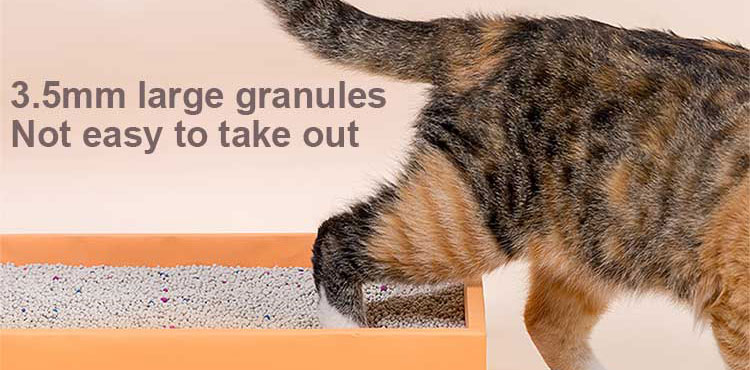 Absorption capacity more than 400%, 1-second clumping, this is our bentonite cat litter. So it can wrap cat excrement faster and better, reducing odor escape. It will not stick to the bottom of the litter box during use and is easy to scoop out, which makes it easier and more convenient for cat owners to clean the cat litter box every day.
The excellent absorption capacity means that less cat litter is used to absorb excrement of the same quality, thereby prolonging the use time of unit cat litter and achieving the purpose of saving cat litter. One bag of cat litter can be used by one cat for 30 days, it is very economical.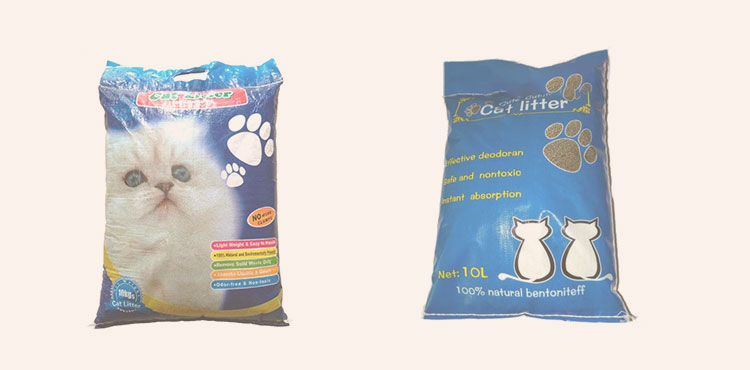 Specification of this bentonite clay cat litter
| | |
| --- | --- |
| Raw material | Sodium bentonite |
| Shape | Ball-shaped |
| Diameter | 1-3.5mm |
| Color | Light grey color |
| Fragrance | Apple/lemon/lavender/rose/coffee scent |
| Dust | Very low dust |
| Moisture | 4.1% |
| Absorption | Strong water absorption |
| Clumping | Fast and strong clumping |
| Packing | 10L(8kg) woven bag |
| MOQ | 1T |
| Capacity | 1000T per month |
| Delivery time | 10-15 days after payment, longer for OEM |
Features of this bentonite clay cat litter
Very low dust
3.5mm large granules not easy to take out

Strong fast clumping: 1 second expansion, 2 seconds agglomeration
Quickly dissolve: don't worry about blocking the toilet
Efficient and economical: For 1 cat can use 30days, 2 cats- 15 days, 3 cats-10 day
People also ask
Is bentonite clay safe in cat litter?
Over half of the litters sold today include bentonite clay and have proven safe for cats since their introduction over fifteen years ago. In fact, the convenience of clumping clays have contributed greatly to the growth of cats as pets.
Is bentonite clay good for cats?
Calcium Bentonite Clay's natural healing benefits mean it can be used both internally or applied topically to help aid the body in eliminating toxins. It's full of trace vitamins and minerals and acts as a great antibacterial and anti-inflammatory that can be used to help your cat and dog.
Is Kitty Litter the same as bentonite clay?
Clay kitty litter is composed almost entirely of bentonite clay, and it made sense that if I added a sufficient amount of clay to my native soil, I could create a more natural, packed-clay barrier that would hold water.
Is bentonite cat litter flushable
Clumping clay litters are not flushable, because they're made from bentonite clay. Bentonite clay forms a cement-like compound in water, so flushing it could clog pipes or damage septic systems.
Bulk price
Looking for cat litter at bulk price to save money? What is the cheapest way to buy cat litter? You come to the right place. 10 years of experience in cat litter production makes us form a complete and efficient production system. The continuous update of product formulas endowed our cat litter with lasting competitiveness and vitality. It enables our cat litter to always maintain a leading position in the competition with similar products. The continuous improvement of production lines enables production costs to be well controlled, which gives our cat litter the price advantage.
High quality and competitive price are our unremitting pursuit of cat litter and our unchanging commitment to buyers. Contact us to get the bulk price.